In Italian, English, Spanish, Basque, French, Turkish, Kurdish, German and Portuguese versions
Appello internazionale per una Settimana di Azione Antispecista contro ogni espressione di dominio e prevaricazione, dal 30 ottobre al 5 novembre, è stato lanciato attraverso i social media.
Incoraggia i cittadini a svolgere ogni tipo di azione, dalla propaganda stradale (dipinti, manifesti, distribuzione di volantini) a laboratori/forum e dibattiti nei vari spazi di riunione affini a questa lotta, a organizzare varie azioni contro attività specifiche con gli strumenti che ogni persona può considerare opportuni, alle mobilitazioni e alle dimostrazioni di massa. Ognun* può partecipare e sentirsi coinvolto, al fine di scuotere ogni gabbia e simbolo di schiavitù.
In ricordo di Barry Horne e di tutte le vittime umane e non umane dello specismo e del dominio.
Sia le misure individuali che collettive di lotta sono valide; dalle azioni di diffusione alle mobilitazioni.
La solidarietà tra le specie non è solo una parola scritta!
Vi invitiamo a segnalarci le iniziative in programma, purché esse rispettino e rispecchino i valori imprescindibili di antifascismo (antirazzismo, antisessismo, antiomotransfobia), antiautoritarismo, anticapitalismo senza i quali l'antispecismo stesso non potrebbe esistere.
Vi aggiorneremo a nostra volta sulle mobilitazioni in programma a livello locale e internazionale.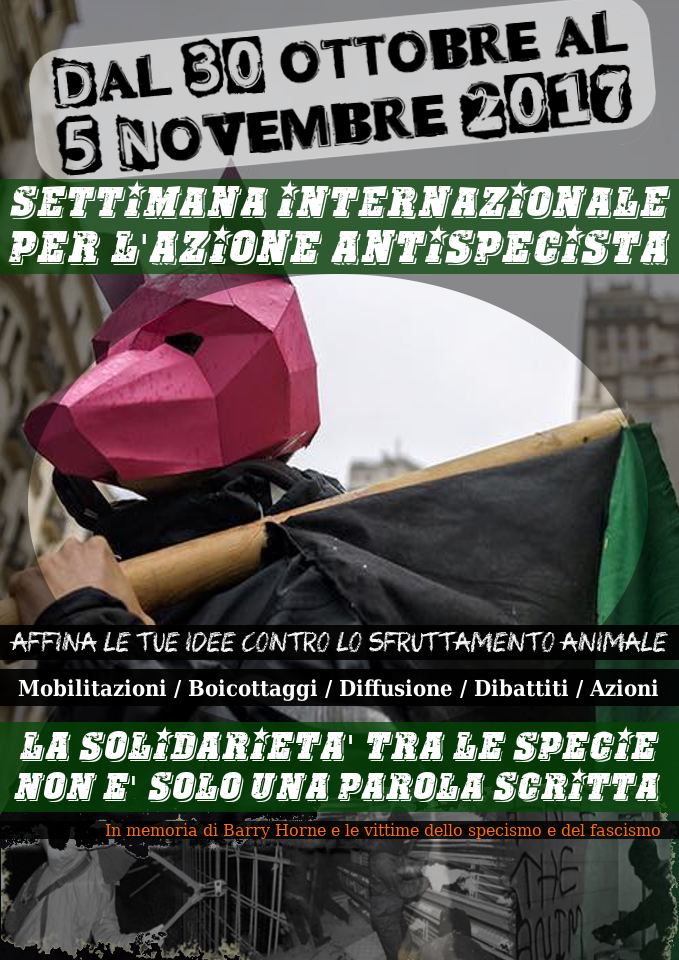 English version
An international call for a week of action against speciesism, from October 30 and November 5, has been launched through social media. It encourages folks to carry out all kinds of actions, from street propaganda (paintings, posters, distribution of leaflets …) to workshops/forums and debates in your meeting spaces, to self-organizing various actions against specific businesses with the tools that each person may consider appropriate, to mass mobilizations and demonstrations. May each one be organized as it suits each one involved, and may they shake all the cages. In memory of Barry Horne and all the human and nonhuman victims of speciesism and domination.
Both individual and collective measures of struggle are valid; from diffusion actions to mobilizations.
Solidarity between species is not just a written word!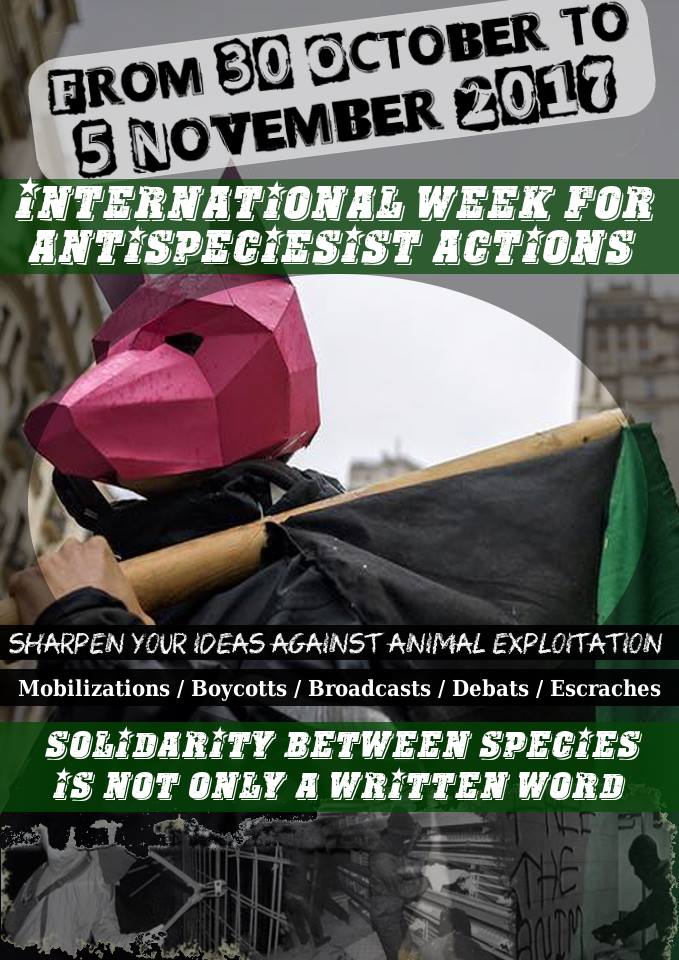 Versión en español 
Del 30 de octubre al 5 de noviembre, Semana internacional de acción contra el especismo
A través de redes sociales se ha lanzado una convocatoria internacional para una semana de acción contra el especismo, entre el 30 de octubre y el 5 de noviembre. Se anima a realizar todo tipo de acciones, desde propaganda en la calle (pintadas, carteles, distribución de panfletos…) hasta charlas y debates en vuestros espacios de encuentro y auto-organización, acciones diversas contra negocios especistas con las herramientas que cada cual considere apropiadas, o movilizaciones y manifestaciones. Que cada cual se organice como le convenga y agite contra todas las jaulas. En memoria de Barry Horne y de todas las víctimas humanas y no-humanas del especismo y de la dominación.
Las medidas de lucha tanto individuales como colectivas son válidas; desde acciones de difusión hasta movilizaciones.
¡La solidaridad entre especies no es solo palabra escrita!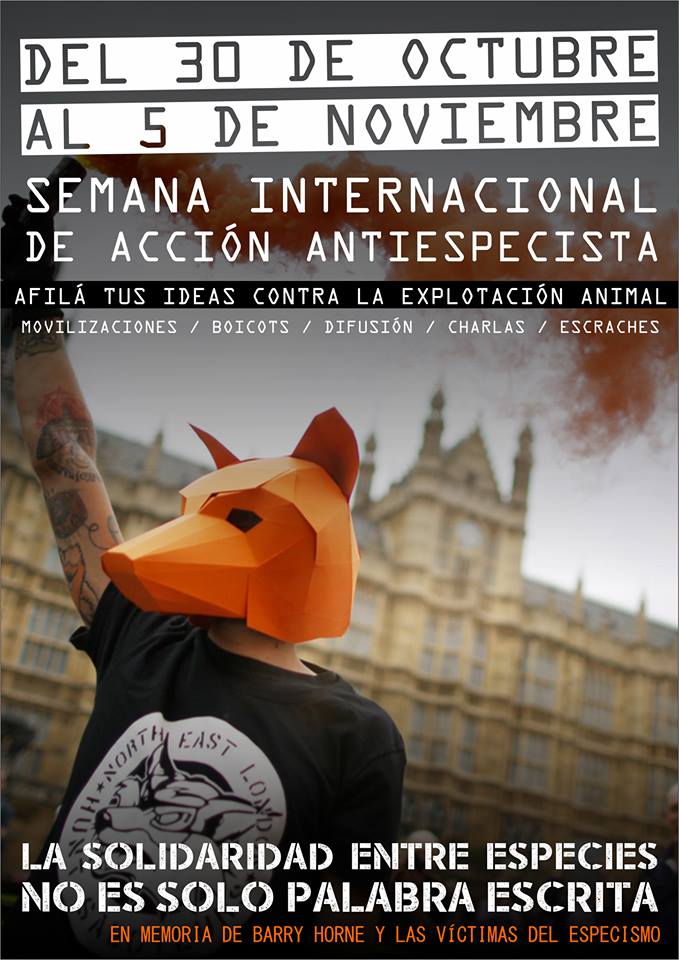 Urriaren 30etik azaroaren 5era arte, Ekintza Antiespezisten Nazioarteko Astea.
Sare sozialen bidez nazioarteko deialdi bat zabaldu da espezismoaren aurkako ekintzaren aste baterako, urriaren 30etik azaroaren 5a bitarte. Era guztietako ekintzak burutzera dei egiten dizuegu: kale-propaganda (pintaketak, kartelak, panfleto-banaketa… ), topagune eta auto-eraketa guneetan antolaturiko hitzaldi nahiz debateak, askotariko ekintzak negozio espezisten aurka bakoitzak komenigarri deritzen tresnekin, edo mobilizazio nahiz manifestazioak. Norbera nahi bezala antola dadila kaiola guztien aurka. Barry Hornen eta espezismoaren eta jazarpenaren biktimen omenez, izan gizaki nahiz ez.
Berdin balio dute neurri indibidual nahiz kolektiboek, difusio-ekintzek zein mobilizazioek.
Espezieen arteko elkartasuna ez da soilik idatzizkoa!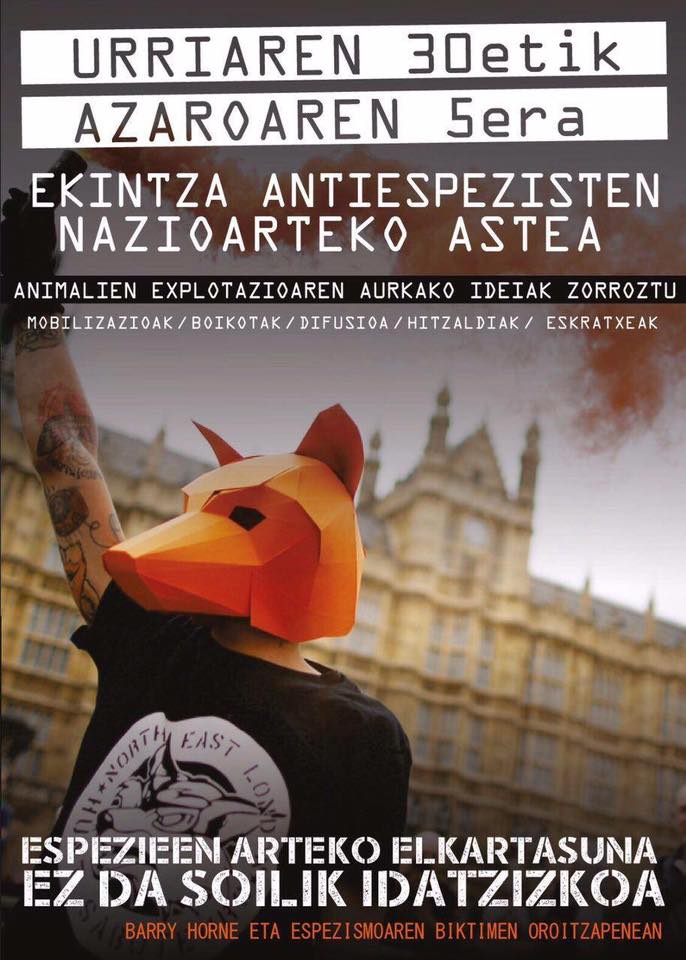 Français version
Un appel international pour une semaine d'action contre le spécisme, du 30 octobre au 5 novembre, a été lancé a travers les médias sociaux. Il encourage les gens à mener toutes sortes d'actions, de la propagande dans les rues (peintures, affiches, distribution de brochures …) à des ateliers / forums et des débats dans vos espaces de réunion, à l'auto-organisation de diverses actions contre des entreprises spécifiques avec les outils que chaque personne peut considérer approprié, aux mobilisations et aux manifestations de masse. Que chacun soit organisé comme il lui convient, et qu'ils agitent toutes les cages. En mémoire de Barry Horne et de toutes les victimes humaines et non humaines du spécisme et de la domination.
Toutes les mesures individuelles et collectives de lutte sont valides; des actions de diffusion aux mobilisations.
La solidarité entre les espèces n'est pas seulement un mot écrit!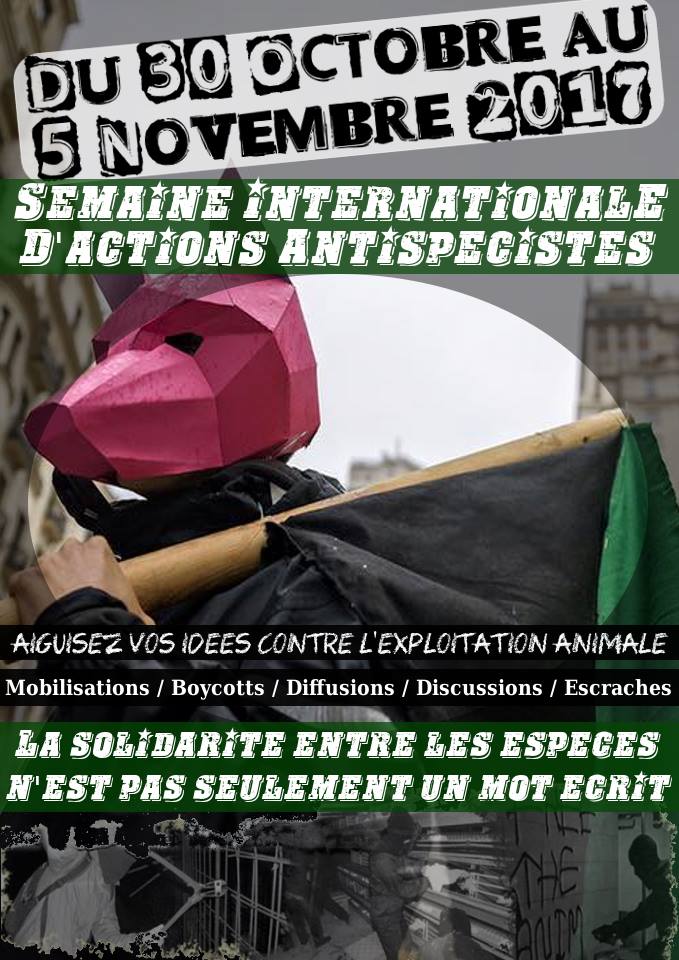 Türkçe versiyon
30 Ekim ve 5 Kasım tarihleri arasında, türcülüğe karşı bir hafta süren uluslararası bir çağrı sosyal medya aracılığıyla başlatıldı. Sokak propagandasından (resim, afiş, broşür dağıtımı…) toplantı alanlarınızdaki atölye çalışmalarına/forumlara ve tartışmalara, her bireyin uygun göreceği araçlar ile belirli işletmelere karşı çeşitli eylemleri kendi kendine organize etmeye, kitlesel hareketlilik ve gösterilere kadar her türlü eylem insanları dışarıya taşımaya teşvik eder. Her birey ilgili olduğu kadar organize olabilirse, tüm kafesleri sarsabilirler.
Barry Horne'un, türcülüğün ve tahakkümün tüm insan ve insan olmayan kurbanları anısına.
Yayıncılık faliyetlerinden mobilize olmaya kadar , tüm bireysel ve kolektif mücadele çeşitleri geçerlidir.
Türler arası dayanışma boş bir laf değildir!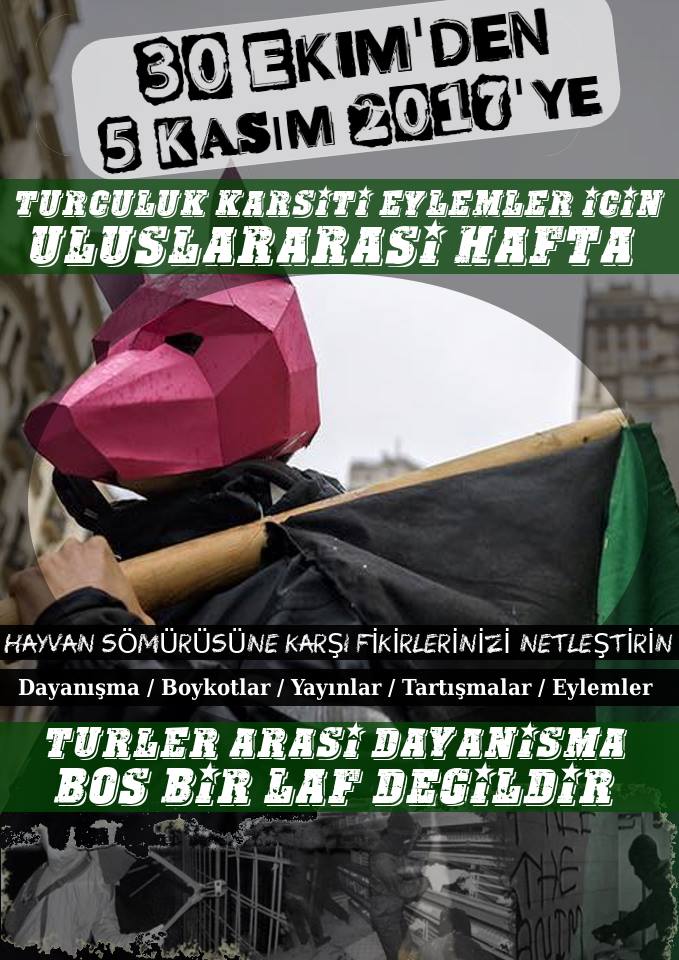 Kurdish Version 
Ji 30'yê Îlonê 5'ê Sermewazê ji bo ku li hemberî nifşperestiyê bangawaziya navnetewî haykırın. Ji propaganda kolan( wêne, afîş , belavkirina belavokan) xebatên atolyeyên li qadên we/ ji forum û gengeşiyan, herkes dikare li hemberî fîrmayan curbicur çalakiyên xwe bi amurên dest da çalakiyan bikarbîne û her çalakî wê mirovan teşwîk bike. Takekesek çiqas organîze bibe ; ewqas wê qefes wê bên şikestin.
Ji bo qurbanên nifşperestî yên mirov û nemirov ji bo bîranîna Barry Horne.
Ji xebatên çapemeniyê heya çalakbûnê, hemû cureyên têkoşînên takekesî û komî derbasdar e.
Hevkariya nifşperestan ne gotinek vala ye !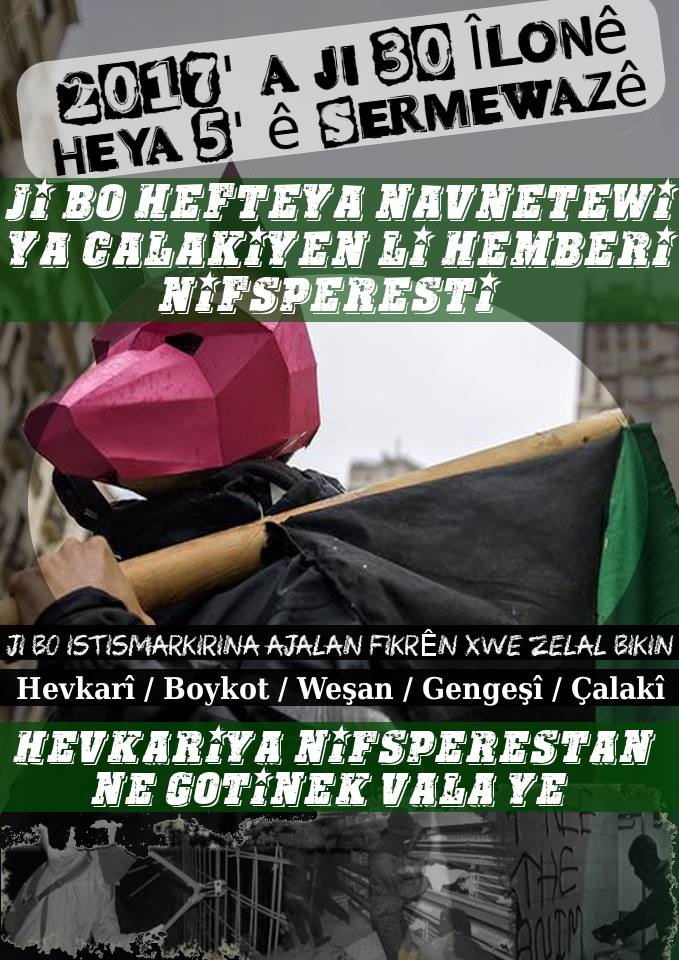 German Version
Internationale Woche für Antispeziesistische Aktionen vom 30. Oktober bis 5. November 2017
(from Contra-info)
Internationale Woche für Antispeziesistische Aktionen
Erweitert eure Ideen gegen die Ausbeutung von Tieren
Mobilisierung / Boykottaktionen / Verbreitung / Debatten / Aktionen
Die Solidarität zwischen den Spezien ist nicht nur ein geschriebenes Wort
In Erinnerung an Barry Horne und den Opfern von Speziesmus und Faschismus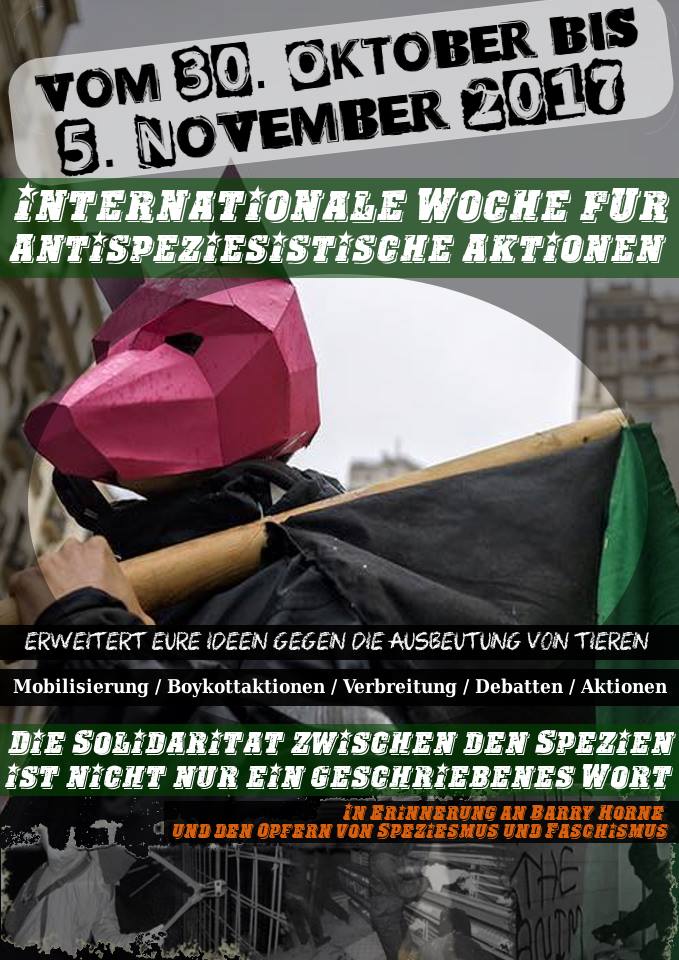 Semana Internacional de Ação Contra o Especismo [30 de Outubro a 5 de Novembro]
Uma chamada internacional por uma semana de ação contra o especismo foi lançada para a semana de 30 de Outubro a 5 de Novembro. Apela-se à realização de todo o tipo de ações, desde a propaganda nas ruas (grafitis, pintadas, cartazes, distribuição de panfletos…), conversas e debates nos seus espaços de encontro e auto-organização, até a ações diversas contra negócios especistas – com as ferramentas que cada qual considere apropriadas – além de concentrações e manifestações. Que cada qual se organize como lhe convenha, individualmente ou em grupo, que se agite contra todas as jaulas. Em memória de Barry Horne e de todas as vítimas humanas e não humanas do especismo e da dominação.
As medidas de luta individuais e coletivas são válidas; das ações de difusão às mobilizações.
A solidariedade entre espécies não é só palavra escrita!